The Baggs' BJ8 restoration
The Buy:
Having owned several Sprites earlier, I have always hankered after doing a Big Healey i.e. a big six, Austin Healey restoration project. 35 years plus and a move to QLD later, August 2015 the thought occurred to me if I ever wanted to own and drive a Big Healey I need to set an intention, so I Googled AHOCQLD and contacted the club about joining. I started looking at the internet with no intentions except to see what was out there. Long story short, eventually my attention was caught by a $25,000 BT7 on the Sunshine Coast. I couldn't believe my eyes, not only was it in QLD but it was affordable and while obviously a project, I couldn't resist taking a look.
I met the seller, AHOHCQ club member, Joe Day just before Christmas and was mightily impressed that he had it on a hoist and I could walk rather than crawl around underneath it. It was an awesome view of a very rusty (but not the worst of the three cars he had imported from the US), but I wasn't put off as I could see it was salvageable. I had already decided I would talk to Peter Janetzki from JH Classic Car Restorations (JHCCR) after recommendations from three separate directions, so I photographed the car from top to bottom and went and made an appointment to sit down with Peter.
JH Classic Car Restorations engagement
I was impressed by what I saw in his workshop, but more impressed with Peter's enlightened attitude towards owners working with him on their cars and his generosity with this his time. He gave me a detailed estimate of what it would take to fix the car and at the same time advised me not to buy the BT7.
Somewhat shocked, I recovered when he suggested I should look at the BJ8 of Joe's instead, to better recoup restoration cost. Given that I had always had my heart set on a BJ8, but had focussed on the BT7 because it was $10k cheaper, I did a double back to Joe's and photographed the $35,000 BJ8 (also conveniently put up on the hoist for my arrival) back to Peter's the following week. Peter advised me the more expensive car was actually going to be a full $10k cheaper to restore and that clinched it. I could have my dream BJ8 and it would in the end cost me no more. Still, I had to figure out how I was going to pull together the $100k or so the budget was showing it was going to cost to restore. In the end I figured out a game plan and pulled the trigger on the BJ8 with Joe just before Christmas.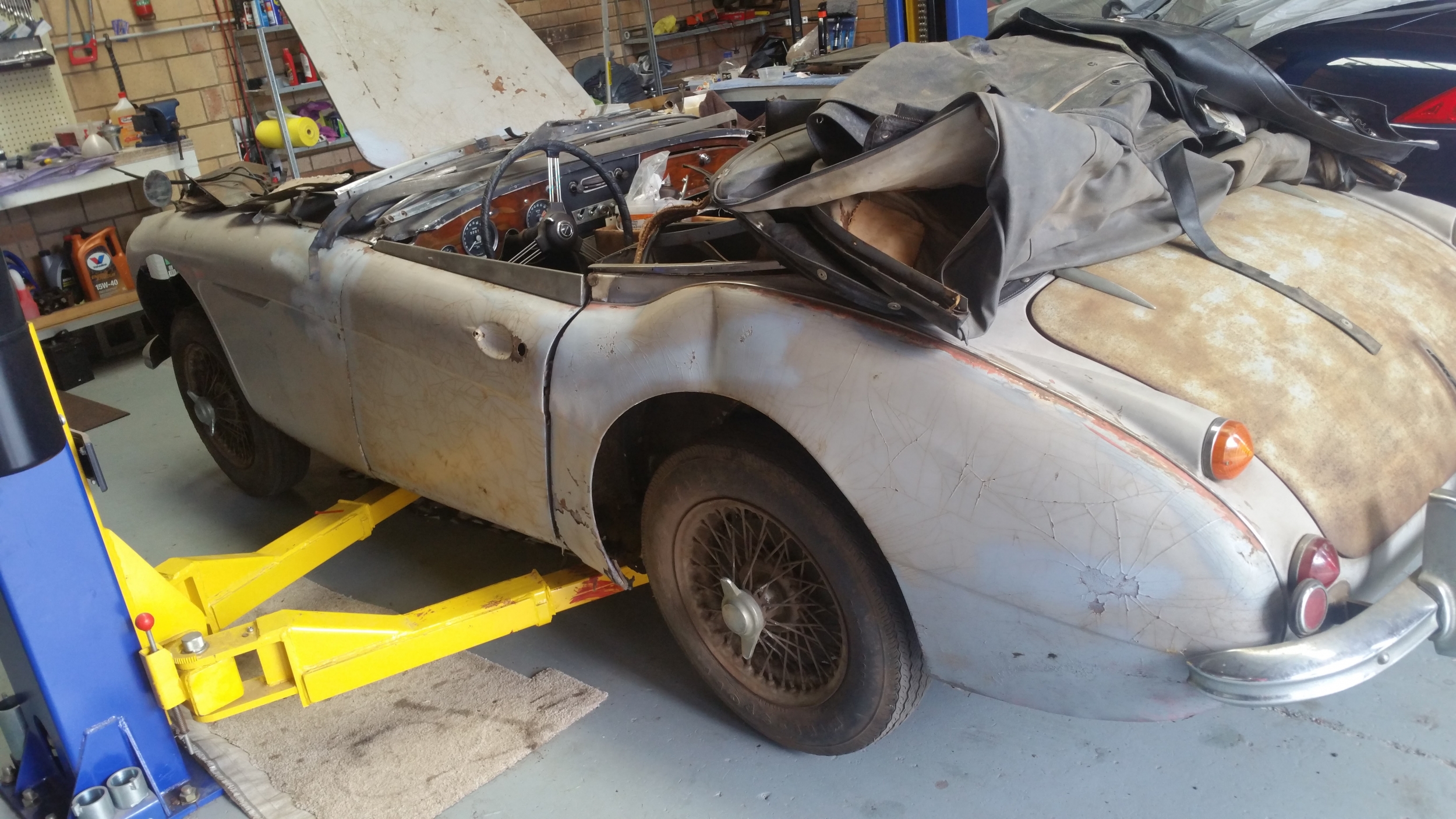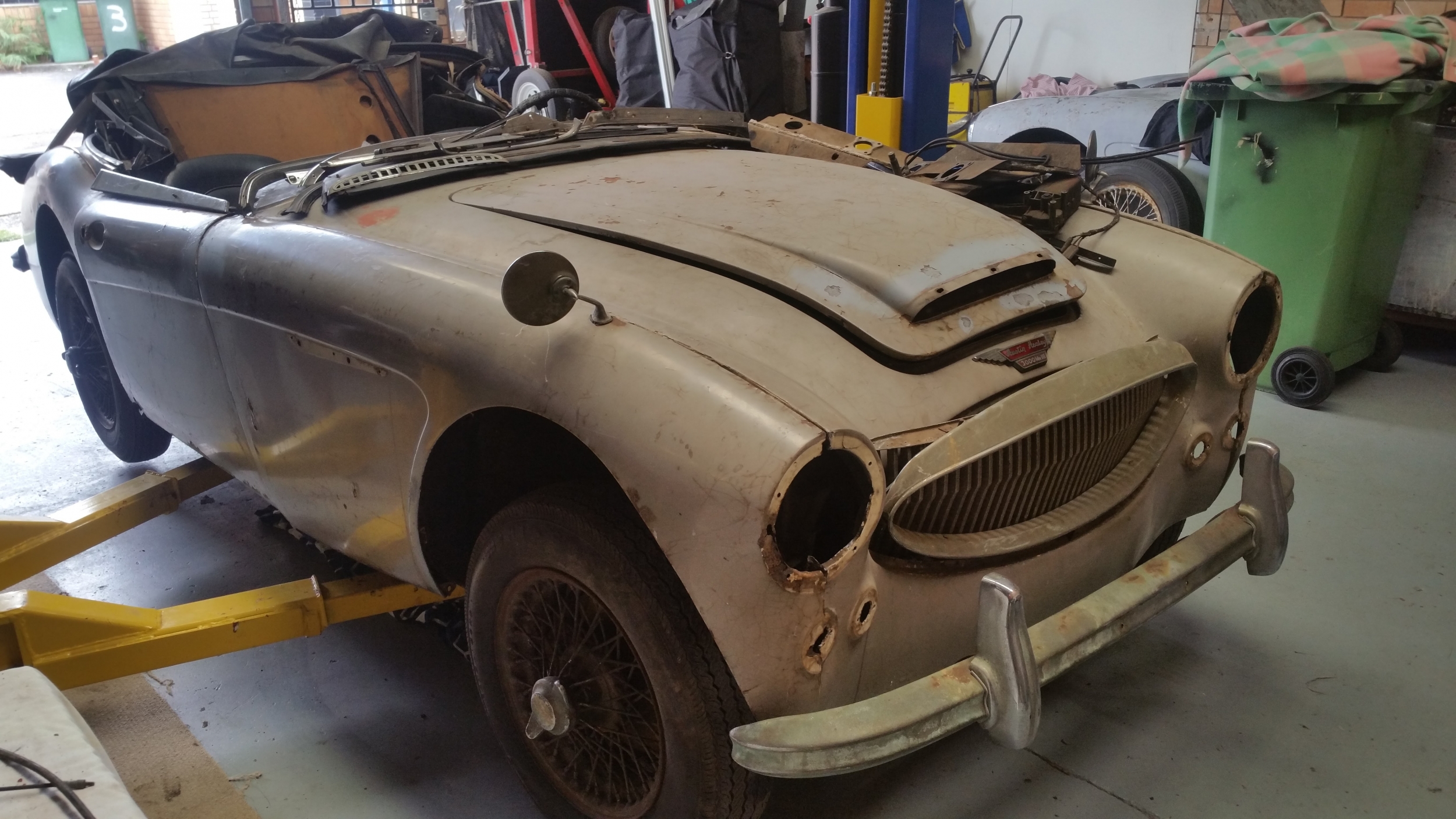 The Process
As it turned out, I was surprised while on holidays with my adult son Tony announcing that he was really passionate about coming up on regular jaunts from Sydney to work on the car with me and so when I picked up the car late January from Joe, Tony had already booked his flights and we got stuck straight into stripping it down at home to a rolling chassis level. Then we put it back on a trailer and took it down to Peter's where we continued to work until a total of 5 days later (and through the 40 degree plus heatwave) it was completely stripped down and all underbody tar ground or stripped off. Fortunately, there were no real surprises at that point and all seemed under control. Tony who is an Environmental Scientist and an approved person to work with asbestos, removed the asbestos heat shields during the worst of that heat (Thanks!!) 
At that point I handed it over formally to Peter although there was an existing queue and I was last Austin Healey restoration in. Tony eventually moved to Brisbane to help finish the car and all the patch panels arrived from Kilmartins about April.
A warning to anyone installing the Fibreglass/PVC Duramat waterproof lining in their floor pans though! DO NOT wipe your forehead while installing the mats- much to Tony's ongoing chagrin, the fibreglass fibres stick into your skin and are still (as of 2021) irritating him when his forehead gets hot.
Parts were ordered from a variety of sources including AH Spares in the UK, The Healey Factory in Melbourne, Keven at Classic Spares at Beerwah, MOSS Motors in the USA. A variety of other sources were also used and with the help of several club members, restoration of key parts progressed nicely. I sourced a renovated starter and distributor from Lee Collins and he converted all to negative earth and restored all the Lucas electricals and manufactured a new heavy duty main cable suitable for the new air conditioning and concealed sound system, amp, Bluetooth and MP3 player all run by a new 120Amp alternator.
Paul Blake showed me how to strip down the shock absorbers, and renovated one that needed it with new bushes and pistons. I also availed myself of one of his very nifty windscreen washer motor conversions concealed in the old push button housing. He also assisted in rebuilding the SU carbies.
The engine looked like it had been done too. A nice clean, polished head on the engine. Obviously never run and a fresh coat of paint over the whole engine gave preliminary indications that all might be well inside, however on inspection after disassembly, it turned out not to be so. Not only was no unleaded conversion done, but while the head was clean and polished, the sump had been full of water and needed all new pistons, cam, lifters and all bearings. Just as well I had budgeted for worst case possibilities!
The Outcome
By now you will have figured, we did not opt for a concourse all original finish, but a modern functioning, close as possible to original, enhanced look. According to the Healey Registry Certificate Joe obtained, the car was Old English White with black upholstery and hood. I am leaving the car white, but introducing a two tone, dark navy opalescent (actually 2017 Mazda) blue, 72 spoke chrome wire wheels and with bespoke deep navy leather upholstery and navy mohair hood, black carpets and original silver piping. I hope you agree it looks stunning!
We remanufacturered all upholstery panels with Pelle Automotive/Marine leather from Germany (it is a product we certify as an eco-leather) and is amazingly soft and supple. The seat centre panels were surface punched half hide deep to assist with the breathing of the leather and padding given QLD summer humidity.
I was very impressed with the looks and finish provided by the new ceramic coatings for the manifolds and the chrome work from Wizard Chroming at Nerangba was absolutely outstanding..talk about wet look chrome with a deep, deep lustre...very impressed. We worked weekends and occasional days on organising and parts and supply and re-assembling as much as we could but Peter and Brett Janetzki did the 'heavy lifting'. Anthony did an amazing job reconstructing the dash from scratch laser cutting, building the press, veneer, ply and softener and then multiple coatings (we still have 5 more pairs if anyone is interested to buy!).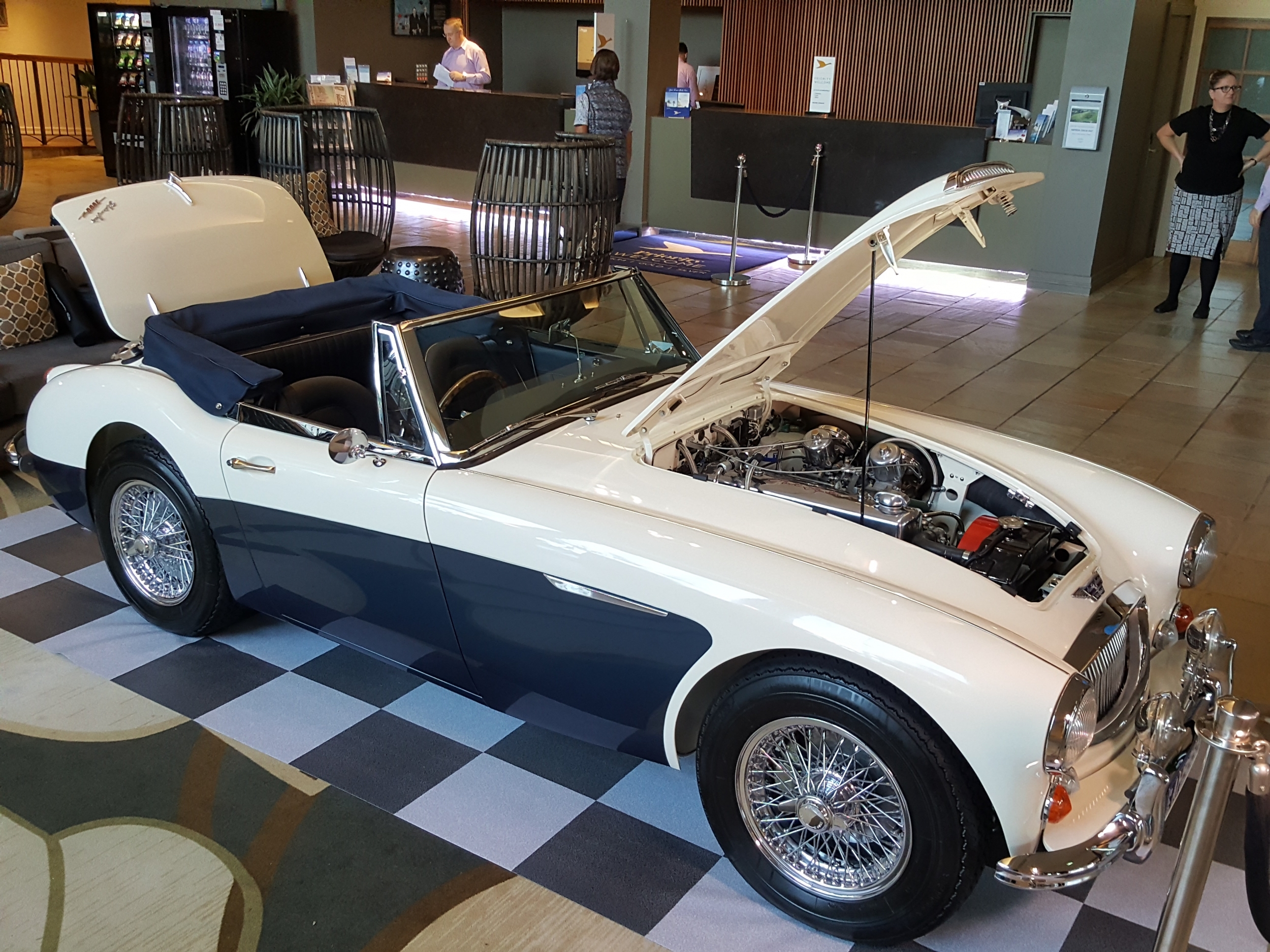 Delivering the goods
Peter had promised us that he would deliver the car in time for the 2017 rally and deliver it they did...We were overjoyed and many people were impressed that almost 13 months from the time I said 'go' to Peter, we drove the car to its first event, the National Rally at Tweed Heads.
AWARDS: The car won Best BJ8 at the Rally and then went on to win the 'Best British' car at the Festival of Elegance Concourse at the Bond Motor Museum on the Gold Coast some weeks later.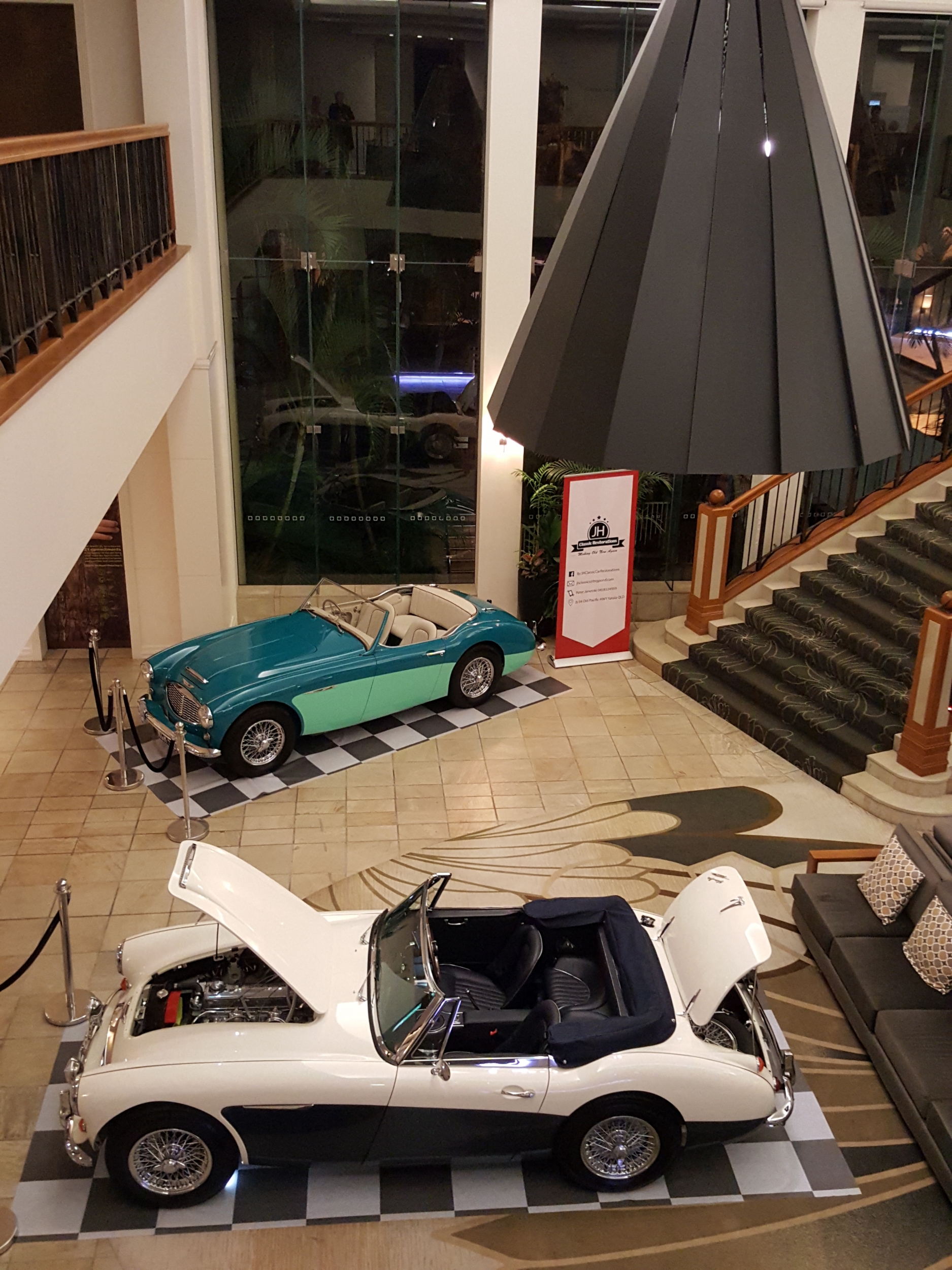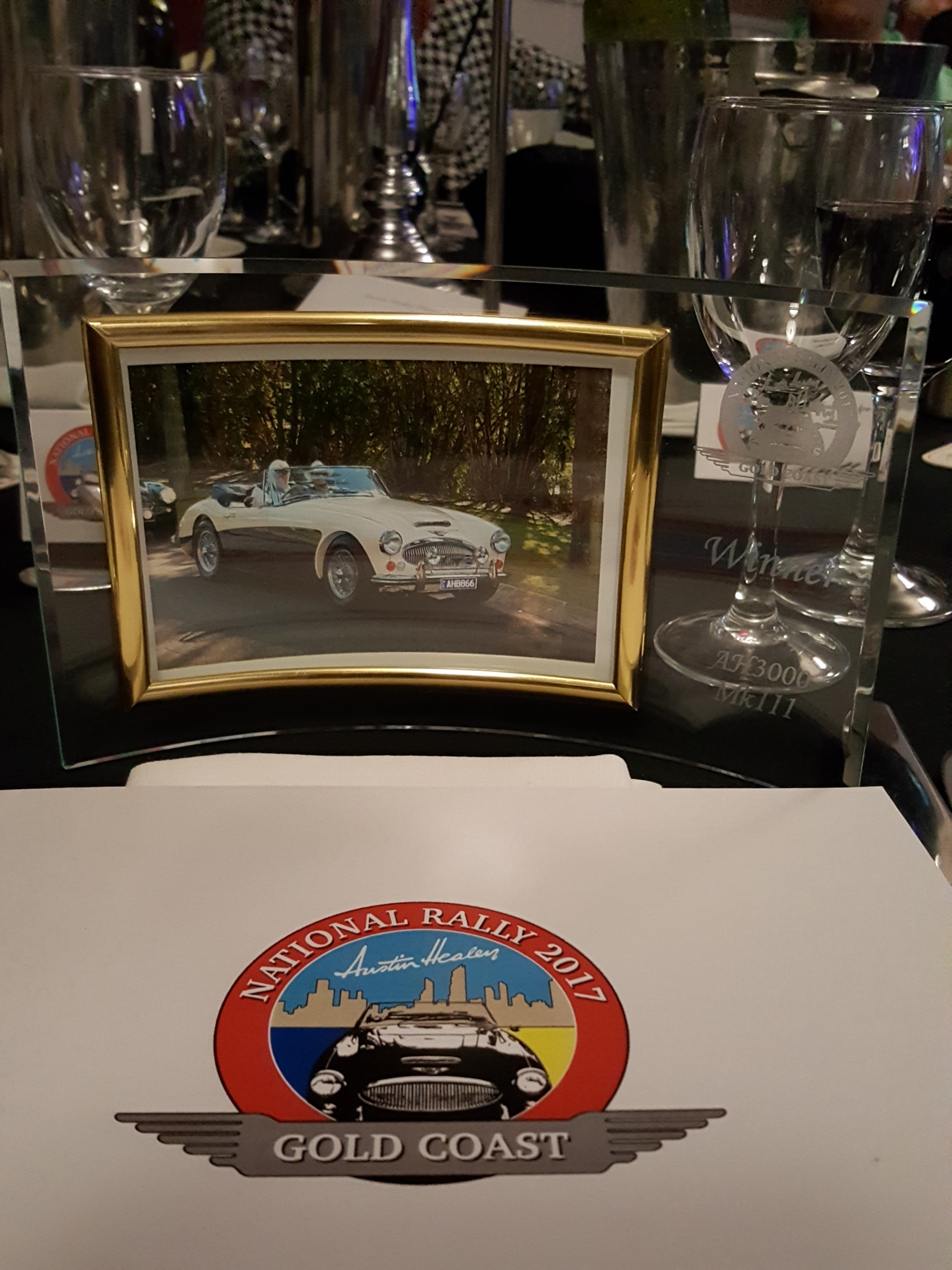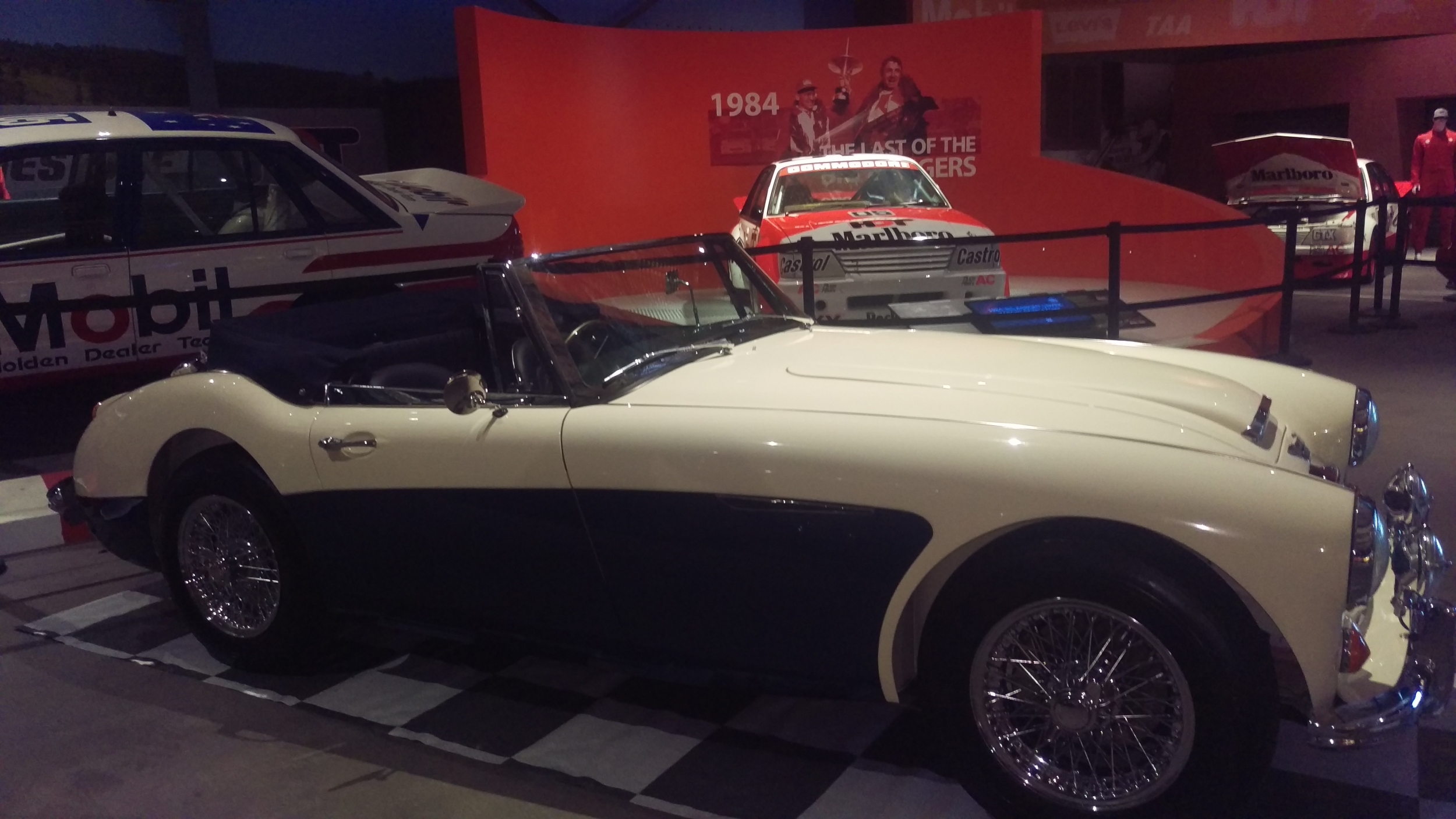 We drive the car regularly and after some early settling in that involved rejigging the main fuse box and reorganising some circuits, Tony and now Anna and I are enjoying the club, its members and driving our fully delivered wonderful Austin Healey restoration! 
2021 POSTSCRIPT: We have all been driving the car for 4 years and after some initial electrical gremlins, it has been faultless and contunues to deliver joy everytime we take it out!